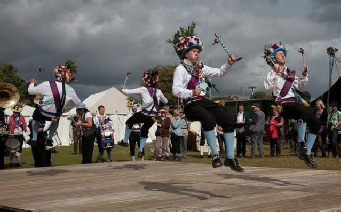 Earlsdon Morris perform North West clog dances. We welcome dancers and musicians of all ages to join. We are a sociable group who like to dance, sing, travel and be merry.
The North West Morris style originated during the industrial revolution, particularly in the cotton mill towns of Lancashire in the north west of England. The ordinary working men of the time danced in their everyday clothes - knee breeches and heavy iron shod clogs. To add colour to their drab costumes, bright sashes were worn and flowers were woven into garlands and placed around the traditional bowler hat. The dancing thrived with every town and village sporting a side. The standards were extremely high and the competition fierce.
We strive to maintain that tradition and heritage by not only continuing to dance traditional steps but also by rigorously practising to maintain the quality of our performance. Equally important is the standard of dress, music and general presentation, which we believe are integral parts of the spectacle of North West Morris. We formed in 1971, with our base in the village of Earlsdon, in Coventry.
The Side